The 4th VI-grade Conference took place on October 18th-19th, 2011 in Udine, Italy.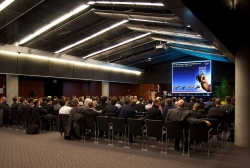 130 engineers, managers, and simulation experts from more than 60 companies and research centers gathered from all over the world to discuss the latest simulation trends and to exchange their experience with other users of the VI-grade technology. The event, characterized by the motto "Push Your Simulation to the Next Level", offered to the participants a very comprehensive agenda, featuring 34 presentations and 3 workshops dedicated to the latest technology in advanced system simulation in the automotive, railway and powertrain/engine industries.

"Fantastic event – thank you!" – "Outstanding mix of topics and industries." – "I spent four very good days, rich of events and discussions. See you next year!" are just some of the quotes collected from participants to the conference.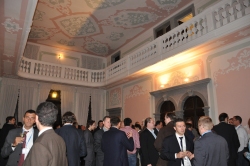 "We are extremely happy with the participation of our community to our 2011 event"
said Juergen Fett, Managing Director of VI-grade GmbH. "The high number of participants from all over the world, especially in these economically challenging times, confirms once again that the strategic directions of our company are well accepted by our customers and prospects."
"A special highlight of this year's conference has been the possibility for all participants to visit VI-SimCenter, our new technical center for driving simulator technology"
said Diego Minen, Technical Director of VI-grade GmbH. "Located very close to the conference venue, the VI-SimCenter currently features four driving simulators from the VI-DriveSim product line: three static with a fixed platform and one dynamic with a moving platform. More than 70 participants have appreciated the opportunity of trying the driving simulators during dedicated sessions in parallel to the official conference program."

The 4th VI-grade Users Conference, sponsored by MSC.Software, FEV, Maplesoft, MIRA and SimCoVR included presentations from APPH, BMW, BMW Motorcycle, Ferrari, Fiat, Magna Steyr, Multimatic, Porsche, Tatravagonka, Volkswagen and many other commercial companies, universities, research centers and technology partners.