2019 VI-GRADE INTL CONFERENCE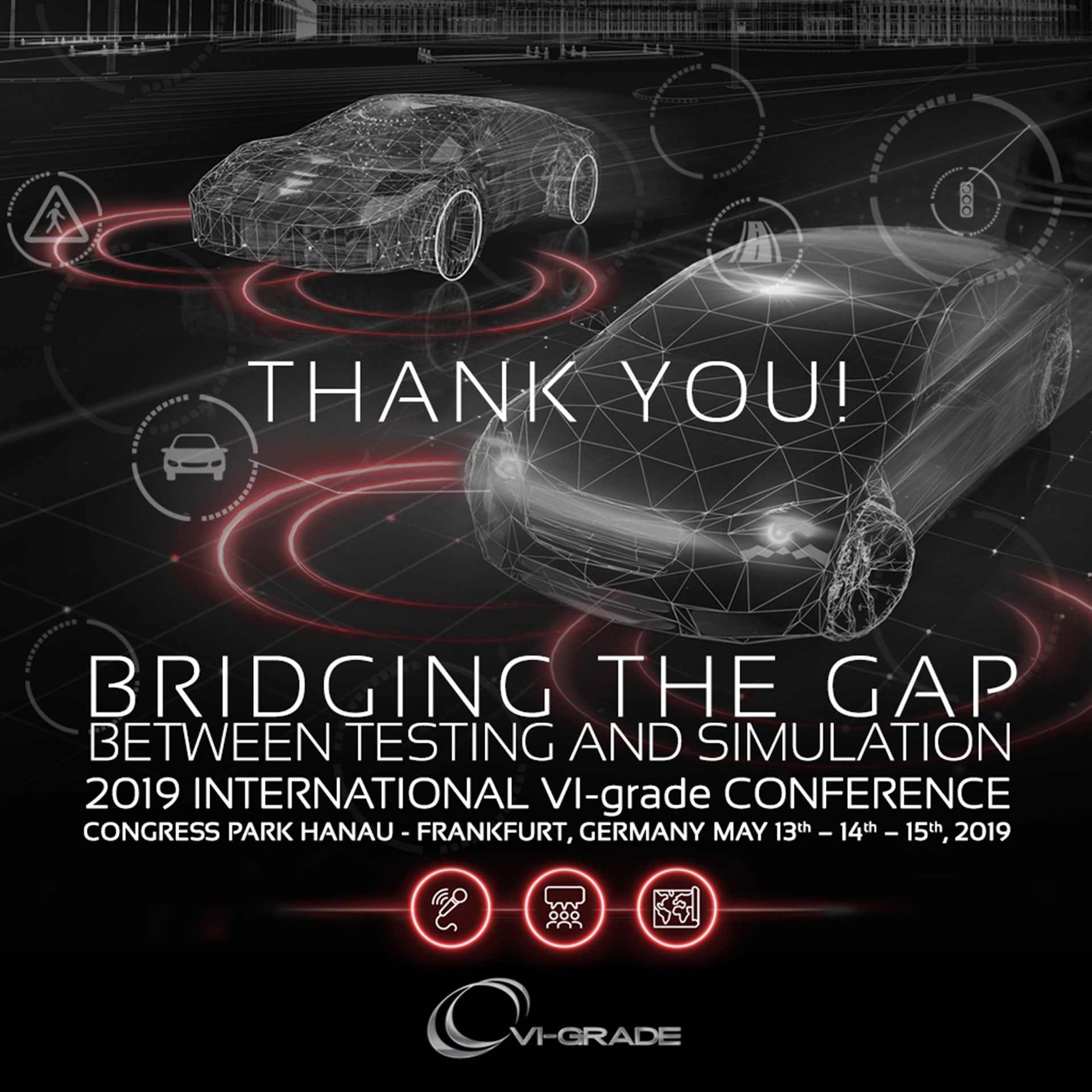 The 2019 edition of our International Conference was a great success with a record attendance of 242 participants from more than 100 companies, universities and research centers from 20 countries from all over the world!
THE EVENT
The event, dedicated to executive managers and experienced engineers belonging to automotive and transportation companies, engineering firms and universities and research centers was held on May 14th-15th, 2019 at the CONGRESS PARK conference center, located in the city of Hanau, Germany (in the outskirts of Frankfurt).
CONTENTS
The conference offered the possibility of discussing the latest trends related to system-level virtual engineering, hardware-in-the-loop, controls and driving simulation. Particular attention has been given to VI-grade's current solutions and development plans for real-time simulation, HIL, SIL, traffic simulation and ADAS, autonomous driving, vehicle energy efficiency and tire modeling.
In particular, the conference focused on how the usage of driving simulators can help accelerate product development, ultimately saving time and cost and improving product quality and safety, with special attention to trending disciplines such as ADAS and autonomous driving.
SPEAKERS
The event featured keynote and technical presentations from worldwide automotive manufacturers, suppliers and research centers such as: Applus IDIADA, Benteler Automotive, Danisi Engineering, FCA LATAM, Fondazione Democenter, Fraunhofer ITWM, Hyundai Motor Europe Technical Center GmbH, Konrad Technologies, MAGNA STEYR Fahrzeugtechnik, Maserati, Multimatic, Roborace, Transpolis, Volvo Car Corporation, Showa. The official program is available here. Selected proceedings, photos and videos will be soon made avaiable on the conference website.
LOCATION AND TIMING
Additionally, in occasion of our traditional ice-breaker event, all conference attendees were invited to an informal get-together at Honda Europe R&D center in Offenbach on May 13th at 6pm to see the world's first fully installed DiM250 driving simulator live and in action. In a relaxed atmosphere, guests had the opportunity to discuss the latest trends and forthcoming driving simulation technologies and also to network among the industry.